Published : 15.06.2023
Haaga-Helia hosted its 11th International Staff Week from May 8th to May 11th, 2023. This year, we were delighted to welcome guests from around 30 different partner universities, creating a diverse and multicultural environment.
The annual International Staff Week, organized by the teacher & staff exchange team, serves as a platform to bring together colleagues from partner universities for an intensive week to get to know the host institution's procedures and work environment. It is not only a good place to exchange of knowledge and good practices but it also provides an excellent opportunity for networking among like-minded professionals.
Over the years, Haaga-Helia's International Staff Week has consistently received positive feedback from participants, establishing its reputation as a successful event. The demand for participation in the staff week exceeds our capacity every year. This year, we received nearly 60 applications before the deadline, with many more reaching out after the deadline inquiring about available spots. Unfortunately, we were only able to accept 40 participants, although we would have loved to accommodate everyone.
Actual Staff Week
The staff week kicked off on Monday with an orientation day at Pasila campus, followed by a guided tour of Helsinki city center and welcoming dinner at Haaga campus.
We were fortunate to have two multi-talented teachers, Claudia Jeltsch and Sirpa Kajarinne, who kindly offered to give a guided tour of Helsinki city center. Even as a Finn, I found the tour incredibly interesting, as it offered unique insights into our history and was excellent way organized.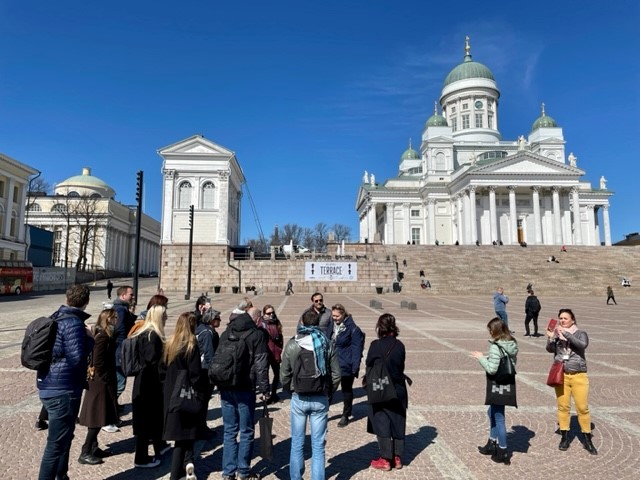 Under the guidance of teacher Sakari Ketolainen, our Haaga Campus culinary management students designed and prepared an excellent dinner with a modern Finnish twist. This dinner received excellent reviews and provided an informal setting for networking and socializing. Personally, I had the pleasure of hosting a table for guests from Denmark, Turkey, Germany, the Czech Republic, Belgium, with two of our students. As the table host, I ensured a welcoming atmosphere and facilitated engaging conversations. I really enjoyed the conversations we had.
Another highlight of the staff week was the visit to our Porvoo campus. Our guests had the opportunity to take a guided tour of Porvoo's historic Old Town, expertly led by my talented colleague, Elin Andersson.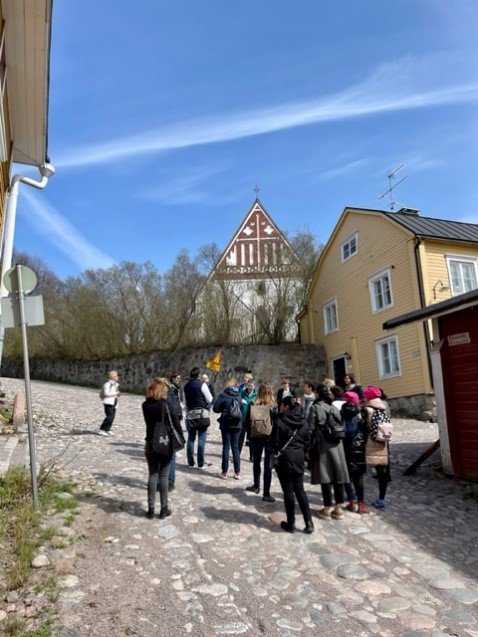 The participants also attended a workshop on Service Design, facilitated by Senior Lecturer Marika Alhonen and Liisa Wallenius from Haaga-Helia. The day in Porvoo left a lasting impression on the participants, receiving a rating of 4.8 out of 5 on our evaluation scale.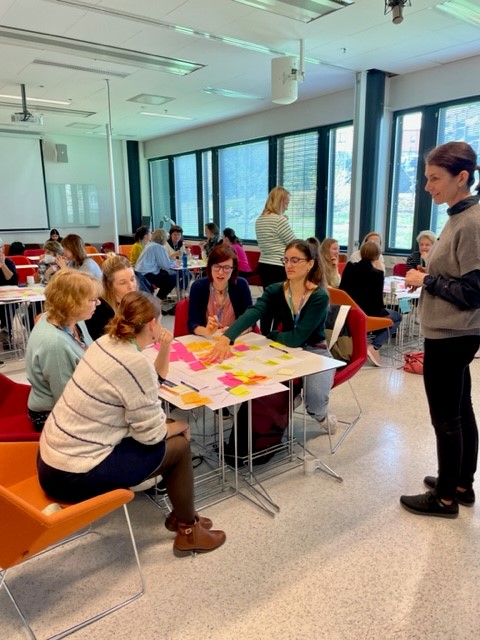 Wednesday was dedicated to module day at Pasila campus. The workshops were organized by our Study Services, Career and recruitment services, Communication, marketing and alumni services, Global education services, International Services, Library and Student wellbeing services. The module day provided a platform for fruitful discussions and knowledge sharing among the participants. Based on the feedback, it was evident that the participants valued the time allocated for networking and wished for even more extended discussions. Sharing the topics beforehand or allowing participants to indicate their preferred discussion topics could enhance future module days.
On the final day at Pasila campus, we were honored to have our former colleague, Harri Hälvä from EDUFI, present an online session on Study in Finland, Student recruitment from the national agency´s point of view, followed by a closing word by Katri Salmi, Head of International Services.
Behind the Scenes of the International Staff Week
Organizing a successful event of this magnitude requires lots of planning. Therefore, we started the planning process in autumn 2022. Fortunately, we were able to draw from templates, materials, and tips from previous years, which helped streamline the process. Nevertheless, we conducted several planning meetings and check-up points throughout the journey. Here are the initial steps we took during the planning process:
Budgeting: We were given a budget to ensure proper allocation of resources.
Main Theme: We selected a current and relevant theme for the staff week, which, this year, was the service design.
Duration: We extended the staff week to four days based on feedback from previous participants who desired a longer program.
Preliminary Program: We developed a preliminary program that encompassed various activities, visits to significant sites, and engaging workshops.
The next phase involved identifying our in-house specialists and professionals who could contribute to the activities, module days, and service design workshop. Additionally, we explored opportunities to involve our students in the process. This step included:
Engaging Specialists and Professionals: We reached out to our in-house experts to contribute their knowledge and skills.
Assigning Tasks to Students: We entrusted our students with responsibilities such as organizing networking activities, conducting campus tours, arranging a Finnish evening program, managing hotel information for the guests, reserving transportation, preparing welcoming packages and name tags, hosting participants, and taking over the institution's Instagram account.
Efficient communication played a crucial role throughout the process. We promptly answered applicants' questions, informed accepted and non-accepted participants via email, and sent marketing materials and information by email. Once the final program was ready, we engaged in ongoing discussions with module day organizers and students to fine-tune all the arrangements.
Some Useful Tips
Creating an atmosphere of informal networking is vital during international events. We ensured that participants had opportunities to engage with colleagues from different countries and experience cultural activities unique to Finland. For instance, we organized a dinner with a modern Finnish touch, a Finnish evening featuring a sauna by the sea, and traditional Finnish snacks like karjalanpiirakka, salmiakki, ryebread, lonkero, and Finnish beer.
Guided tours of Helsinki city center and Porvoo Old Town provided additional avenues for exploration. Informal coffee breaks with refreshments were also an essential feature, as Finland has a strong coffee culture. These breaks allowed participants to interact in a relaxed environment and facilitated further networking.
What I Learned
Reflecting on the organizing process, there are a few areas where improvements can be made. One aspect is providing more comprehensive guidance and coaching to the students involved. We could have provided a more detailed walkthrough of the program and schedules, especially regarding their interactions with international guests and small talk techniques. Similarly, it would have been beneficial to request module day organizers to share their presentations in advance for our review.
Feedback from the participants highlighted the benefits of knowledge sharing, discussions on various topics, and the opportunity to meet colleagues from other countries. The overall experience was described as amazing, informative, and inspiring. Participants praised the excellent organization, the beautiful city of Helsinki, and the valuable workshop on service design. These positive comments affirmed the success of the International Staff Week and the positive impact it had on the participants.
Here are some of the feedback we got:
"I believe everybody should see how well an event for so many participants can be organized, and I have also learned a lot during the week. Moreover, I had the chance to meet so many interesting people from different institutions, which I am hoping will lead to new future cooperation."

"It was very well organized. And it is a great opportunity to meet so many people from so many different universities and to exchange ideas and experiences with them. I loved Helsinki and the Finnish people."

"Excellent organization, amazing people, beautiful city of Helsinki, very inspiring workshop on Service Design, exposure to the Finnish way of thinking/education."

"I really admire the organizers of Haaga-Helia staff week because everything was very well organized. We received all the information needed in advance, and the program was both useful and enjoyable. It has certainly inspired me in many ways, and I think I will be able to improve the level of services that I provide at my faculty."
In conclusion, the International Staff Week at Haaga-Helia has proven to be a highly efficient form of staff mobility. It not only allows colleagues from partner universities to exchange knowledge, best practices, and experiences but also creates a multicultural environment for networking. The event's success lies in good planning, engaging specialists, involving students, and fostering an atmosphere of informal networking.
If you are interested in similar opportunities to network and gain international experience at our partner universities, I encourage you to frequently check available staff weeks. Additionally, if you have any ideas for our next international staff week at Haaga-Helia, please do not hesitate to contact us at staffexchange@haaga-helia.fi.
Thank you to everyone who participated and contributed to the outstanding overall atmosphere. Your friendly nature made the event a great success, and we look forward to future collaborations and shared experiences.
Special thanks to my amazing teammates – Elin Andersson, Sarai Hervella, Sami Krogerus and Avnee Garg-Kaljunen and our supervisor Katri Salmi for the valuable support. I was truly privileged to have the opportunity to work with such exceptional individuals. Each of you has played a vital role in our accomplishments, and I am truly grateful for your contributions. I am proud to be a part of this incredible team!