Published : 09.06.2022
Haaga-Helia's 2022 International Staff Week was organized in June. We had the pleasure of hosting 40 participants from 30 of our partner universities representing 15 different countries at Vierumäki campus on the last day of the event. The participants were administrative staff, such as human resources, international services, marketing and communication, alumni services, student and admissions services, and student well-being services.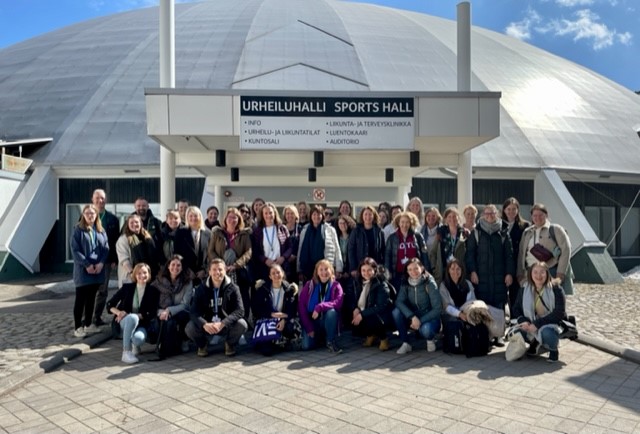 Reuniting communities and building well-being
In Vierumäki, we organized a workshop to share the best practices and ideas on hybrid work, attracting staff back to campus and work-place well-being. The overall goal was to discuss how to reunite higher education institution communities and build well-being together.
We wanted to create a relaxed and informal atmosphere for attendees to interact with colleagues. Therefore, for the venue we chose the landmark building Vierumäki Sports hall. The facility itself helped the participants to focus on holistic well-being. It also reminded the attendees of how sports facilities can be used for meetings, workshops and breaks to socialize.
Six teams worked on the three given topics. Halfway of the workshop the two groups who had the same topic shared their views. At the end they presented their jointly chosen best practices for the other groups.
Everyone felt that they got some new ideas as takeaways from the workshop, but more open discussion on campuses is needed to find the suitable best practices.
Facilitating hybrid work
On the topic of facilitating hybrid work, the participants suggested that equality is important when providing technological tool and facilitating meetings and workshops online and in person.
Hybrid work etiquette is important. This includes having calendars updated, respecting busy/free signals, using cameras, and addressing people equally online and in person. Hybrid work is a challenge for community building, but we found that planned informal gatherings, having time to share thoughts, and connecting online and in person is important.
Some wild ideas for hybrid social events were yoga, meditation and sauna.
Attracting students and staff back to campus
The solutions to attracting students and staff back to campus included organizing social and special events i.e. breakfast, coffee breaks, lunch, after work drinks, pyjama days etc. Having fixed on-campus days were discussed, but also agreed upon that they should not be just for meetings or workshops.
Our preferences for working have changed during the pandemic and this creates new needs for facilities and workstations. We need quiet as well as team working spaces. Health and safety personal workstations and equipment are also needed.
Teams need to be actively built back together. Building a community requires everyone's effort.
Enhancing holistic well-being
Taking care of health and safety, and enhancing holistic well-being created the most discussion about the topic's importance.
Taking care of physical, mental and social health are equally important. For supporting physical well-being different ways of commuting, providing gyms, exercise rooms and sit-stand-desks were mentioned.
Social events enhance social well-being, and so does interaction and dialogue. Call your work friends!, was the groups message. Providing unlimited coffee brings people together and is simple to organize.
Taking care of ones mental health is extremely important, and the ways to support it is to offer the possibility to choose ones best ways, times and places to work. Trust was named as one of the key issues for overall well-being.
To end the day, we took our guests to a Finnish sauna by the Valkjärvi-lake. This year the spring has arrived late, and the ice had just melted. Our guests were really brave as almost everyone went for quick swim in the lake. Sharing ideas, gaining new experiences and relaxing was a nice end for the three day Staff Week and a chance for networking before everyone travelled back home.
Picture: www.shutterstock.com