Published : 22.12.2021
The Finnish pavilion Snow Cape in Dubai invites visitors to share future happiness. The pavilion theme is visible throughout the customer journey highlighting the base for Finnish happiness: education, pure nature, sustainability, and technological innovations. The Finnish pavilion Snow Cape has now been open since beginning of October and has attracted over 300 000 visitors.
Practising hospitality and pitching skills
The pavilion guides play a key role in transmitting the theme of sharing future happiness. The guests are welcomed to experience the exhibition, enjoy a cup of fresh coffee brewed using CO2 from the air and engage in conversations with the Haaga-Helia expo guides.
On a daily basis, the guides interact with various stakeholders like business delegates, politicians and other protocol guests, families as well as visitors from other pavilions. Private guided tours are given to interested delegates, carefully taking them through the exhibition and explaining the content in more detail.
Our students are true ambassadors for Finnish happiness, representing Finnish education and always showing a professional and friendly attitude towards visitors and other stakeholders. The guides have found efficient ways to memorize and learn even the most technical content. The pavilion partners are presented to visitors in form of short sales pitches, and students have really developed their pitching skills.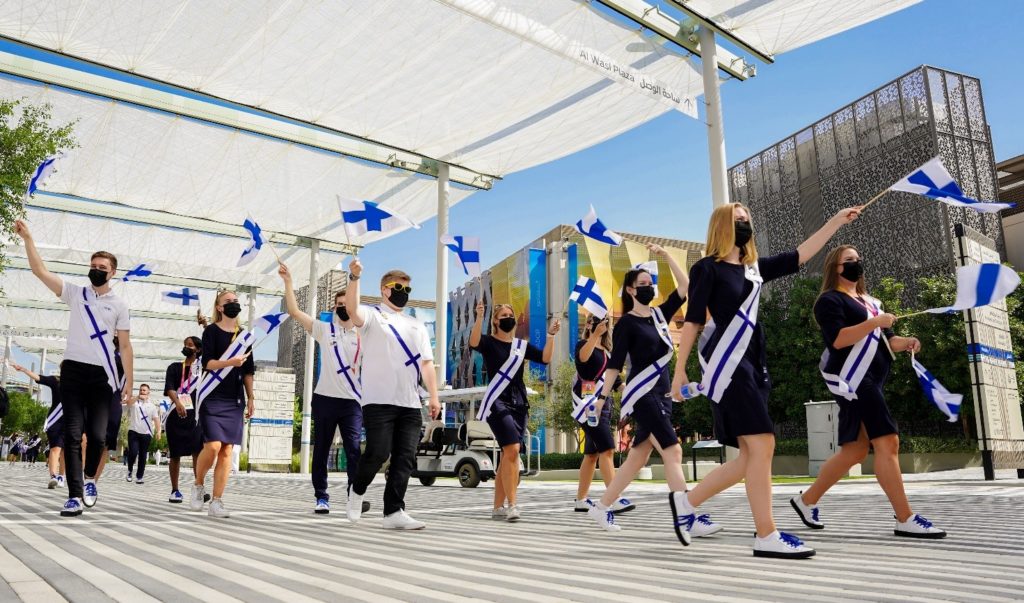 Owning the role of a team leader
Team leaders are the backbone of the guide teams. They have additional responsibilities of communicating about upcoming pavilion partners' events, liaising between the management team and the rest of the team. They also are proactive in ensuring that the team spirits remain high and that any concerns of the teammates are addressed timely.
Team leaders meet regularly and share their best practices with their respective teams. This gives them a chance to learn and support each other when demanding situations arise. Brainstorming with other team leaders can be seen advantageous as it encourages creative thinking and gives the students varied perspectives.
Mira Immonen, 3rd year student of Tourism and Hospitality Management, is one of the team leaders. She expresses that being a team leader has taught her more than she had ever imagined. She has efficiently learnt how to manage challenging situations and adapt to fast-paced environments with ease. Her motto is to be a team player along with being a team leader and encouraging them to be forerunners in decision-making as well.
Team work is about sharing and supporting
While the students are adapting to thrive in a new environment, adjusting and reorienting their professional lives, their personal well-being is of importance as well. The students are soon half-way through their stay in Dubai. Whilst they understand and adopt the power of networking at work in the pavilion, it is essential that they focus on their well-being outside of work.
Elina Mölsä, 1st year student of Tourim and Event Management, joyfully claims that she loves the atmosphere in Dubai and especially because of the connections and friendships she has been able to commence. She has not only been able to network with delegates from around the world but also made strong connections and friendships with her teammates, which she affirms has helped her get over homesickness and tough situations.
Haaga-Helia offers the guide team some recreational activities, like a desert safari. Consumer events in December such as Christmas carols, Independence day celebrations and Santa Claus visiting the Finnish pavilion, also raise the spirits of the guides. Teams have come up with recreational team day activities of their own, like bowling, mini-golfing, having brunch together and birthdays are always celebrated. Team members come up with small surprises and make sure that everybody feels part of the community.
The way these young future professionals take care of the team spirit truly serves as a great example for any work community!