Published : 31.05.2023
Artificial intelligence is often considered as a futuristic technology and an enabler for radical product and service innovations that shape markets. Artificial intelligence is often a tool amongst SMEs that allows incremental innovations for existing markets. These innovations help to enhance existing products and services.
Incremental innovations achieved with artificial intelligence are valuable because they help to increase a company's internal processes and launch new or enhanced products or services. This was the target and at the core for Valtti Kumppanit Oy when it participated in AI-TIE accelerator in 2021-2022.
Valtti Kumppanit Oy, founded in 2015, is a specialist in continuous IT services. It delivers comprehensive IT services especially for SMEs. The services include cloud and data center services, cyber security services, information work office and IT support services. One of Valtti's key business areas is the maintenance of databases and resources. They are continuously managing and controlling thousands of databases.
Automatic database monitoring
The stability of information systems is perhaps the most important factor for customers and the core sales advantage for service provider. In practice this means that databases need to operate 24/7. Every possible malfunction and disruption must be fixed as soon as possible and – if possible – preventively.
Valtti has developed a system where databases are monitored continuously automatically, and every possible problem strives to be recognized immediately. The system is based on a multitude of partially self-developed monitoring parameters that are calculated continually from databases. These parameters are monitored with rule-based automation system which notifies the duty officer of possible disruptions.
Valtti's current system operates well and represents the best of its kind in the industry. However, there is still room for improvement and therefore Valtti considered if they could apply artificial intelligence technology to recognize problems. Unlike rule-based solutions, artificial intelligence could perhaps help to recognize more complicated problems and those that are harder to detect. Also it could possibly speed up the reacting stage before the problem effects on the service.
Particularly artificial intelligence's advantage is to recognize very weak signals from the hundreds or thousands different parameters and connect this information to decision making. This perk isn't possible with only rule-based system. The new artificial intelligence-based system would work as a support and extension for the current one.
Development work with our own experts
The new artificial intelligence solution is being developed with the company's own experts. Development requires historical time series data on the normal operation of databases and various problem situations, allowing the system to be taught to distinguish between normal and abnormal operation and to anticipate potential problem situations.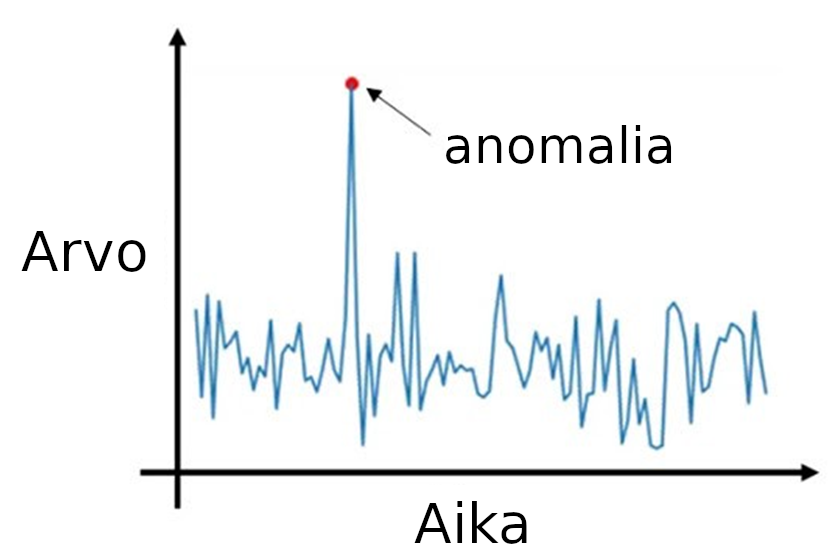 The described artificial intelligence solution typically falls into the category of anomaly detection. In the case of Valtti, there is a wealth of data on the operation of the databases. On the other hand, the suitability of data quality for anomaly detection required further investigation. On the other hand, the necessary data and especially the most common error situations can also be generated by simulation, i.e., not all data need to be correct historical data. For example, the storage frequency of a time series must be sufficient to detect even rapid deviations from the time series. In addition, the challenge is the large number of different databases and systems, i.e., those developed for a single database the model may not be common as such for all databases
As Valtti moves into the Al Design Sprint phase of the Al-TIE artificial intelligence accelerator, the goal is to find out how the company's existing data is suitable for solving the problem and whether it needs to be collected more, and to implement the first trial of the anomaly detection model. At this point, the experiment is performed on only one database type (e.g., Oracle), but with a successful experiment, it is possible to advance to other databases as well.
Conclusions:
Data is at the heart of artificial intelligence development and solution, even when it comes to incremental innovation. There must be comprehensive data from the entire process, which in anomaly detection means both normal and abnormal process operation.
All the data required to train the artificial intelligence model does not have to be genuine historical data, but the data can also be simulated, if necessary, if the process related to the data is known well enough.
Although the company has strong technical and IT capabilities of its own, the functionality of the idea is ensured through different stages, the most effective with the AI Design Sprint.
The application areas of artificial intelligence are best found when a company critically examines its own processes and defines the development areas that have a particularly direct and measurable impact on the business.
Translated from the Finnish by Petteri Saloranta.